by Christine Apostoles & Rodney Hammett. From Bulletin 10 of 2020
Glebe in the 1950s welcomed many of the post-war immigrants who went on to enjoy the freedom and prosperity that Australia offered, raising families and creating successful businesses here. One such couple was Christofis (Chris) and Marina Antoniou who arrived separately in Sydney from Cyprus, in 1952.
Chris initially found work in a tannery at Botany, each day riding his bicycle from lodgings at 56 Toxteth Rd, Glebe. Later, after they married in 1957 in Sydney, he and Marina bought the Toxteth Rd terrace with another young married Cypriot couple who became their koumbari and lifelong friends, Zino and Efrosini Constanti. Together they lived at No 56 for a few years, then moving to 10 Wigram Rd, Glebe with their growing families until the families were able to buy their own homes. At one point there were eight children and four adults living in the terrace, not to mention the additional boarders they took in to help pay the bills. The Constantis were long-time residents of Glebe, running a grocery store at 215 Glebe Point Rd, which is now an IGA supermarket.
Chris was a tailor by trade and Marina a seamstress, so putting their skills to good use in the late 1950s they opened a tailor shop at 85 Glebe Point Rd, a property they bought. This also became the family home. A few years later, with the tailor shop running smoothly and having purchased No 87, they decided to earn some extra money trying their hand at making filo pastry in a small room next door at No 87. Working tirelessly for long hours they mastered the art of handmade filo pastry, soon establishing a name for themselves and began selling filo pastry to two local Greek cake shops.
A development application was submitted in 1961 to use No 87 as a 'cake shop', to allow them to produce and sell filo pastry from the premises. Despite neither Chris nor Marina having any formal English lessons, through their work and interaction within the local community, their English skills became proficient.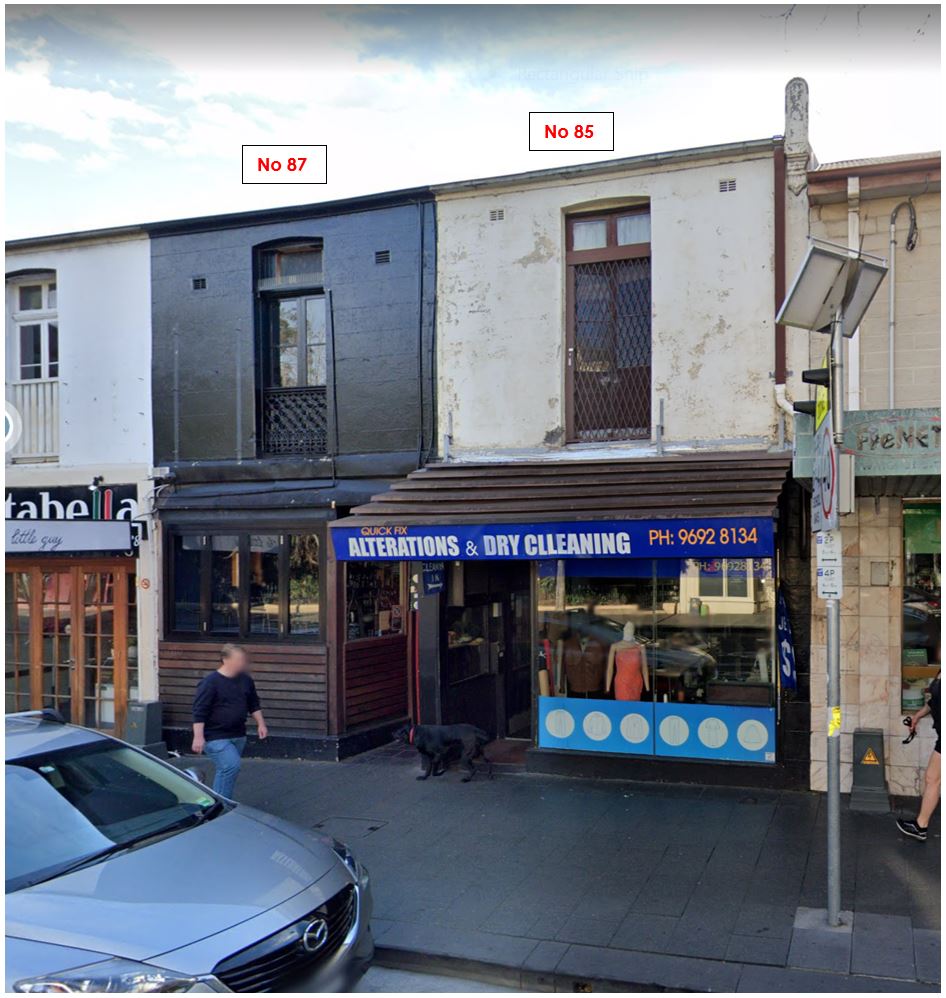 The businesses operated side by side for many years, while Chris and Marina raised their young family. Helen, Tony and Miriam often helped their mum and dad during school holidays in the filo pastry business. Although the children disliked working in the shop at times, they now reflect back on the experience positively, knowing how much it moulded them into the people they have become today.
Attending Glebe Public School in the 1960s, the children now have amazing childhood memories of playing with their friends, most of whom were also children of Glebe shop owners, including the milk bar, the bootmaker, the fish and chip shop and the 'hamburger joint'. Campbell Lane became the playground for the neighbourhood children.
In 1969 it became apparent that Chris and Marina had to make a choice between the filo and tailoring businesses. The filo pastry business had grown enough to warrant their full-time attention and the decision was made to close the tailor shop. In the early 1970s they moved filo pastry production from Glebe to a small factory in St Peters. Through many years of hard work and dedication, the business continued to expand and grow.
Today, the business is operated by Chris and Marina's son, sons-in-law and three grandchildren from a purpose-built facility in Moorebank. In 2020 the Antoniou Family proudly celebrates 60 years in business as they continue Chris and Marina's legacy which began all those years ago from their small Glebe Point Rd shopfront.